Barcelona need a striker, and they need one quickly!
With Munir being flogged to Sevilla earlier in the week, La Liga's leaders have just Luis Suárez available as a recognised number nine.
January isn't an ideal time for clubs to do their striker shopping, clubs are less inclined to sell during the season, as losing a goalscorer can easily disrupt and derail a campaign.
Due to this issue, and the Barça board's apparent unwillingness to splash the cash, finding a stopgap option appears to be the agenda.
There's certainly some options out there, with long-in-the-tooth (though hopefully less inclined to chomp opponents as Suárez) forwards and neglected goal scorers ready to jump at the chance to slip on the iconic blue and garnet shirt.
So here's six short-term options who could bolster the Barcelona frontline this January.
6. Fernando Llorente – Tottenham Hotspur While some cruelly suggested that the veteran forward had 'found his level' after scoring a hat-trick in his side's 7-0 FA Cup thrashing of Tranmere Rovers, Llorente's lethal finishing ability can't be disputed.
The former Athletic Bilbao man is rumoured to be on Ernesto Valverde's wish list this month, and with his contract expiring in the summer, he could be available on the cheap.
However, Spurs are also pretty limited when it comes to striking options, and may be unwilling to let the veteran forward go until they secure a replacement.
5. Bas Dost – Sporting CP Granted, the Portuguese top tier isn't up there with La Liga, but Bas Dost's scoring record with Sporting CP is, quite frankly, ridiculous.
The 29-year-old has scored 71 goals in 71 league matches for the club, and netted 36 times in his first season at the club.
Sure, it would be a gamble, but the dynamic Dutchman is unlikely to cost the world, and could offer an intriguing backup option to Suárez in the short term.
4. Álvaro Morata – Chelsea
Perennially offside, unable to score open goals, and rapidly becoming an unpopular figure among Chelsea fans, it's safe to say that Álvaro Morata isn't having the best of times in the Premier League.
The Madrid-born striker is believed to have been offered to Barcelona on a short-term basis, as the Blues look to bring in a more capable replacement for the second half of the season.
While he's had a tough time of late, Morata could flourish back in La Liga, and remind his critics why Chelsea shelled out £58m for him in 2017.
3. Mario Mandžukić – Juventus
In truth, the chances of this happening are pretty remote. Mandžukić is a key player for Juventus, despite his senior years, and looks set to sign a new contract which would see him finish his career in Turin.
However, the lure of the Camp Nou can never be underestimated, and the prolific goalscorer may fancy another crack at La Liga, having previously spent a season at Atlético Madrid.
That being said, it's highly unlikely that the Croatian will settle for being a rotation option at Barcelona, when he looks set to win a fourth league title on the bounce with Juve.
2. Gonzalo Higuaín – AC Milan (On Loan from Juventus)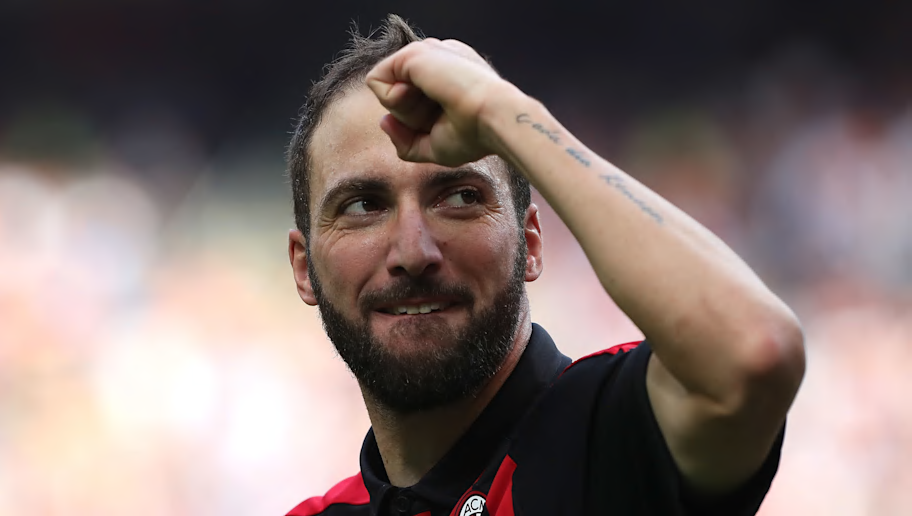 While Chelsea look odds-on to bring in Gonzalo Higuaín on loan in January, there's nothing stopping the Catalan giants from swooping in to hijack the move.
Barcelona fans will know only too well what the deadly marksman is capable of after he starred for Real Madrid, and could certainly be tempted to loan the Argentina international this month.
The 31-year-old would also be eligible for registration into Barça's Champions League squad, ahead of their second round tie against Lyon.
1. Javier Hernández – West Ham United
The little pea. The fox in the box. The Mexican Michael Owen…okay, that's a stretch – but let's face it: Javier Hernández, on his day, is an exceptional finisher.
With Marko Arnautović back from injury and even Andy Carroll looking like he's getting back to full fitness, Hernández's revival at West Ham looks to be short-lived.
Certainly, Barcelona have far superior creative talents to the Hammers, and could serve up a host of chances for the Mexico international to tuck away on a weekly basis.
Of course, he's not got going to be starting every week; that would be insane. But as a backup, Hernández could provide some magic moments.