Manchester City's squad depth is truly stunning, but there is one position in which the team is not so strong enforced – defensive midfield.
The only recognised defensive midfielder in the squad is Fernandinho and, according to Goal, Guardiola recently admitted that his side have no replacement for the Brazilian when he is unavailable. That has been clear on the pitch, as City crashed to defeats against Leicester City and Crystal Palace in his absence.
City certainly need another option in the position, and here are seven players they could turn to.
7. Philip Billing
On first glance, there could not be a more different player to Fernandinho than Huddersfield Town's Philip Billing. The 22-year-old stands at a monstrous 6'6, but he is by no means just an imposing body.
Billing has been one of Huddersfield's standout performers in recent seasons. Defensively, he possesses excellent positioning and knows how to use his physicality to break up opposition attacks. He is also surprisingly agile and has a great eye for a pass, whether that be a short ball to another midfielder or a longer pass to a marauding full-back.
He has already admitted his desire to play for one of the Premier League's biggest clubs, and may find a move to City hard to turn down, especially if the Terriers are unable to avoid relegation.
6. Frenkie de Jong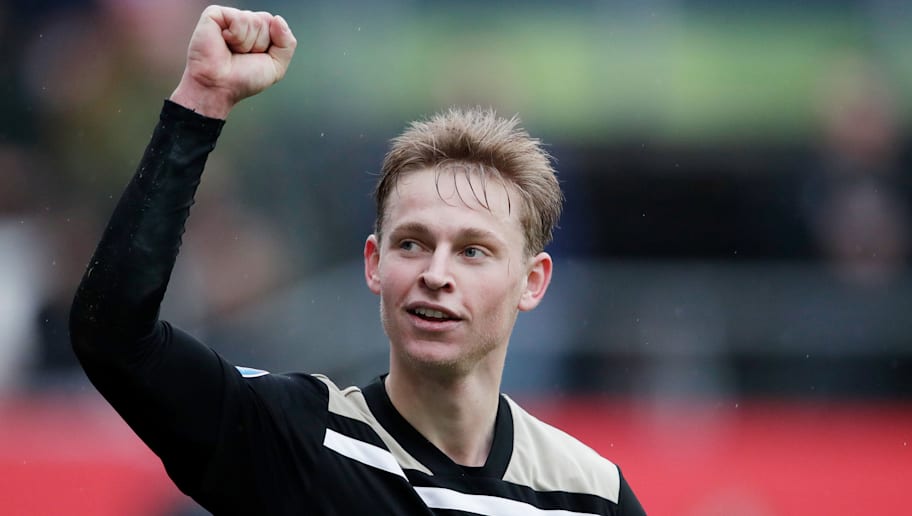 There's a reason why the likes of Barcelona and Paris Saint-Germain are preparing to battle for Frenkie de Jong's signature – he's really, really good.
Quite simply, de Jong can do everything. For just 21, de Jong reads the game impeccably. He knows where to position himself to nullify opposition attacks, often being deployed as a centre-back as a result, and he is prepared to put his body on the line to get the job done.
He has been an excellent playmaker from the base of Ajax's midfield for several years, and he's certainly not afraid of playing with the ball at his feet. He might cost a lot of money, but he could comfortably fill the position for the next ten years.
5. Ethan Ampadu
This one may be a bit of a stretch, but City could make it happen. Ethan Ampadu is incredibly highly rated by those who have followed his young career, and Chelsea have no intention of letting him go.
Many fans feel he is ready for a regular place in the first team, but opportunities have been hard to come by for the 18-year-old. Ampadu has drawn praise for his leadership, determination and composure, and many feel the sky truly is the limit for the Welshman.
Ampadu is yet to see any Premier League action this season, and could find a convincing offer from elsewhere too hard to turn down. Guardiola has shown his willingness to play young players if they are good enough, and Ampadu is certainly good enough. It wouldn't be easy, but never say never.
4. Claudio Gomes
Money doesn't grow on trees. If City need to save some money, they have a ideal candidate in the form of Claudio Gomes already part of their academy.
Once viewed as the gem in PSG's academy, expectations are certainly high for the 18-year-old. He has drawn comparisons to Chelsea star N'Golo Kante, with the two sharing similar physiques and play styles.
He only arrived in Manchester last summer, but has already made two (incredibly brief) appearances for the club. He has been tipped for greatness, and may just need once chance to prove himself in the senior side.
3. Julian Weigl
Julian Weigl has spent much of his senior career shielding defences with ease. He knows how to identify and nullify danger, and also has the technical ability to play himself out of trouble. When he plays, he regularly finds himself on the ball and rarely struggles to pick a pass to his teammates at Borussia Dortmund.
However, things have not been great this season. Weigl has found himself out of the team, making just four Bundesliga appearances since the start of the season. He is clearly not in manager Lucien Favre's immediate plans, and City could seek to capitalise on that.
The 23-year-old offers everything that Guardiola likes in a midfielder, and Weigl may feel that he has a better shot at first-team minutes in Manchester.
2. Wilmar Barrios
25-year-old Wilmar Barrios seems destined to make a huge move to Europe in the near future. Chelsea, Tottenham Hotspur and Real Madrid have already been linked with the Boca Juniors midfielder, and City should add their name to that list.
Barrios' one true passion is tackling. He loves to use his power to impose himself on opponents, and offers some impressive stability to Boca's side. The Colombian is also comfortable on the ball, but could certainly improve under Guardiola's tutelage.
Guardiola loves his midfielders to break up attacks, and that is what Barrios does best. He would make a reliable deputy to Fernandinho, and could one day replace the ageing Brazilian.
1. Marco Verratti
As a deep-lying playmaker, there are few better than PSG's Marco Verratti. The 26-year-old possesses superb defensive instincts, and rarely shows any desire to attack. Instead, he prefers to do his work from deep, allowing his teammates to shine on the ball.
When watching Verratti, it is clear why his awareness is so impressive. The Italy international is constantly scouting the situation on the pitch. He knows where to position himself to recover possession, and is never afraid of getting physically involved in the midfield battle.
PSG certainly do not want to let him go. However, if City can come up with a convincing proposal, Verratti may look to bring his seven-year association with the Ligue 1 giants to an end in search of a new test.