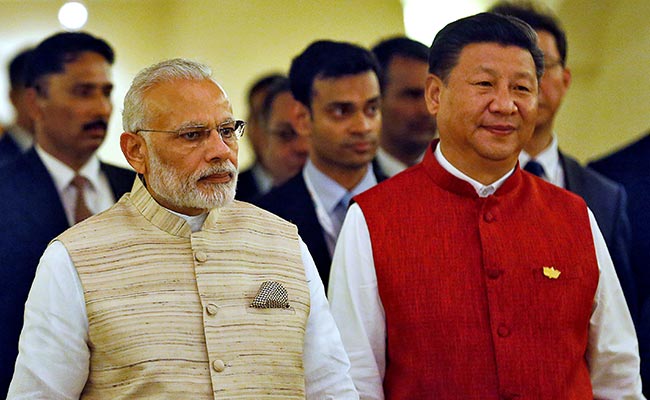 The key free-wheeling one-on-one meeting between Prime Minister Narendra Modi and President Xi will take place on Saturday morning. No Memorandum of Understanding will be signed and no joint statements will be issued, government sources said. The aim, they said, is to build contacts at the highest level and exchange views on key issues.
Sources said terrorism, including training, financing and any other support to terror groups, will be one of the key issues to be discussed. Others will be trade, defence and border issues. Sources say both sides are also looking at possible confidence-building measures for the India-China border, which may be announced later.
President Xi will reach Chennai around 2 pm on Friday, from where he will proceed to Mahabalipuram. PM Modi is expected to show him around three of the site's ancient monuments – Arjuna's Penance, Panch Rathas and the Shore Temple. The two leaders will also watch a cultural programme with Shore temple as the backdrop. During PM Modi's visit to Wuhan, President Xi had given him a personal tour of the Hubei provincial Museum.
On Saturday morning, the two leaders will hold their informal meet at the Taj Fisherman's Cove Resort & Spa, which will be followed by delegation-level talks. PM Modi will also host President Xi for dinner and lunch.
The first informal summit between PM Modi and Xi Jinping took place Wuhan, a picturesque Chinese lake city, months after a 73-day face-off between the armies of the two countries in Doklam last year.
The meet threw up new guidelines for the military of both nations as part of moving beyond Doklam and "maintaining peace and tranquillity" on border areas. The two nations had agreed that maintaining peace at the border is essential for growth in bilateral ties.
The idea of the Wuhan informal summit came after the two leaders met in Astana and agreed that bilateral relationship should be a source of stability in an uncertain world and that they should not allow their differences to become disputes, foreign minister S Jaishankar had said.
Yesterday, Beijing said Xi Jinping had assured support to Pakistan on issues related to its "core interests". State-owned Xinhua News Agency also quoted him as saying that although the "right and wrong" of the situation were clear, India and Pakistan should resolve the situation through peaceful dialogue.
Later in the evening, a joint statement after President Xi and Imran Khan's meeting, said Jammu and Kashmir should be "properly and peacefully resolved based on the UN Charter, relevant UN Security Council resolutions and bilateral agreements."
In its response, India said, "India's position has been consistent and clear that Jammu and Kashmir is an integral part of India. China is well aware of our position. It is not for other countries to comment on the internal affairs of India". The government has also maintained that the move in Jammu and Kashmir and making Ladakh a union territory is an internal matter.
Get Breaking news, live coverage, and Latest News from India and around the world on NDTV.com. Catch all the Live TV action on NDTV 24×7 and NDTV India. Like us on Facebook or follow us on Twitter and Instagram for latest news and live news updates.