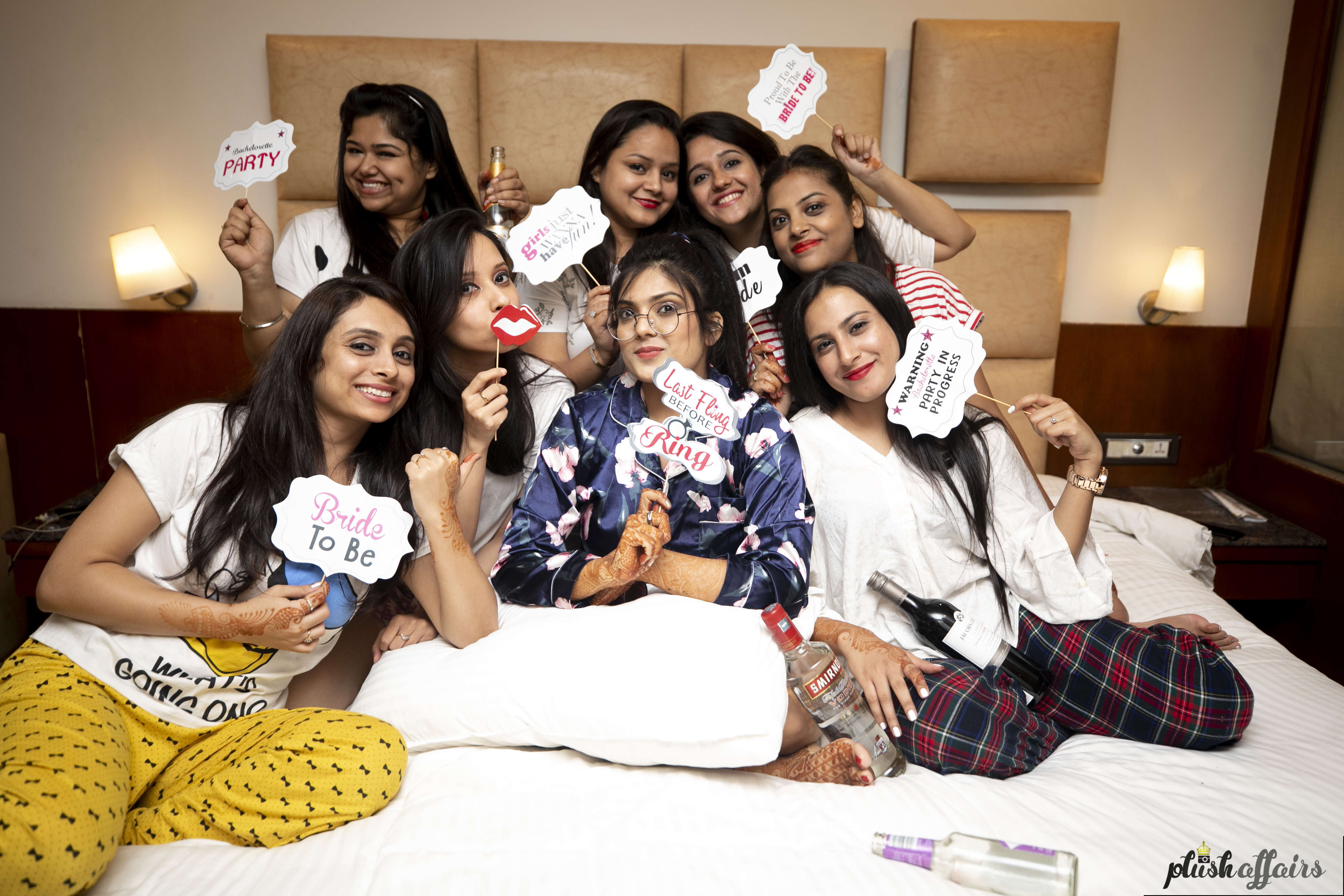 Move over bachelorettes, pre-wedding slumber bashes are the latest rage in town. And while once upon a time, slumber parties were all about getting into one's PJs and letting your hair down with your fellow girlfriends, minus any frills or fuss – in 2019, these humble dos have undergone a glamourous and high-end makeover.
From DJs to Goan villas, satin nightgowns and professional makeup – there's a lot that goes into getting one's slumber party just right. Here's a lowdown on the trend.
FROM GOAN VILLAS TO DJs: SLUMBER PARTY BUDGET SHOOTS UP TO ₹1 LAKH
Slumber parties of yore have undergone a drastic makeover, with many now choosing to add in frills such as theme decor, high-end catering, DJs and costumes. The budget for such a bash now ranges from ₹20,000 to a whopping ₹1 lakh. Most choose to host their friends at home, or a five star hotel, or even out of town.
Wedding planner Simi Athora recently organised a pyjama party for a Bhopali bride in Goa, where they booked a special villa with a swimming pool for the bash.
"Such private spaces allow the bride and her friends to enjoy to the fullest without worrying about attracting unwanted attraction. At this slumber party, there was a group of over ten women. We had a DJ, and an all-women staff catering to them. Unlike, regular wedding functions, where one is required to wear heavy outfits, makeup and jewellery, this is a chance for the women to let their hair down. Instead, here, the women were all dressed in satin pyjamas, in keeping with the theme," shares Simi.
Ashutosh Shrivastava, from a wedding planning company, adds that even couple slumber parties are in vogue this season. He explains, "Couples opting such dos are those who live away from their hometowns. Their friends too come in from different cities for celebrations, so this becomes a reunion of sorts. This way, they can have fun, enjoy good food and music, without much interference from relatives."
MAKEUP ARTISTES, STYLISTS HELP CREATE 'SLUMBER LOOK' FOR PHOTO SHOOTS
With Bollywood celebs rocking the nightwear look at fining dine spots and airports, it's not all that hard to find the style inspiration for these bashes.
Designer Swati Rajoria, who designed a set of clothes for a bridal slumber party this summer, tells us, "For this bash, the bride wanted a 'natural' look. So, I designed pink satin pyjamas with cotton T-shirts that had quirky logos on them – like Sexy Sumeli and Dancing Daisy. The outfits were accompanied with hairbands of the same satin cloth, and charm bracelets."
Freelance creative writer Niharika Singh, who attended her best friend's pyjamathemed bachelorette bash, says, "There were 20 women there, and the wedding planner provided us all with a cream coloured satin shrugs, while the bride wore a red one. She had also hired makeup artistes and hair stylists to help us out. We even had a photo shoot session with interesting props."
Home baker Diksha Sanghwi has received several orders for themed return gifts for such bashes. "Parties like these are becoming increasingly common in the city. Return gifts for these occasions are expected to be something fancy. At a recent party, I provided a hamper comprising cosmetics, gluten-free cookies, vegan brownies, and spa vouchers. My team packed them in a cute basket with a flower handle. A hamper like this would cost roughly around ₹2,000, but we customise it according to the bride's requirements," explains Diksha.