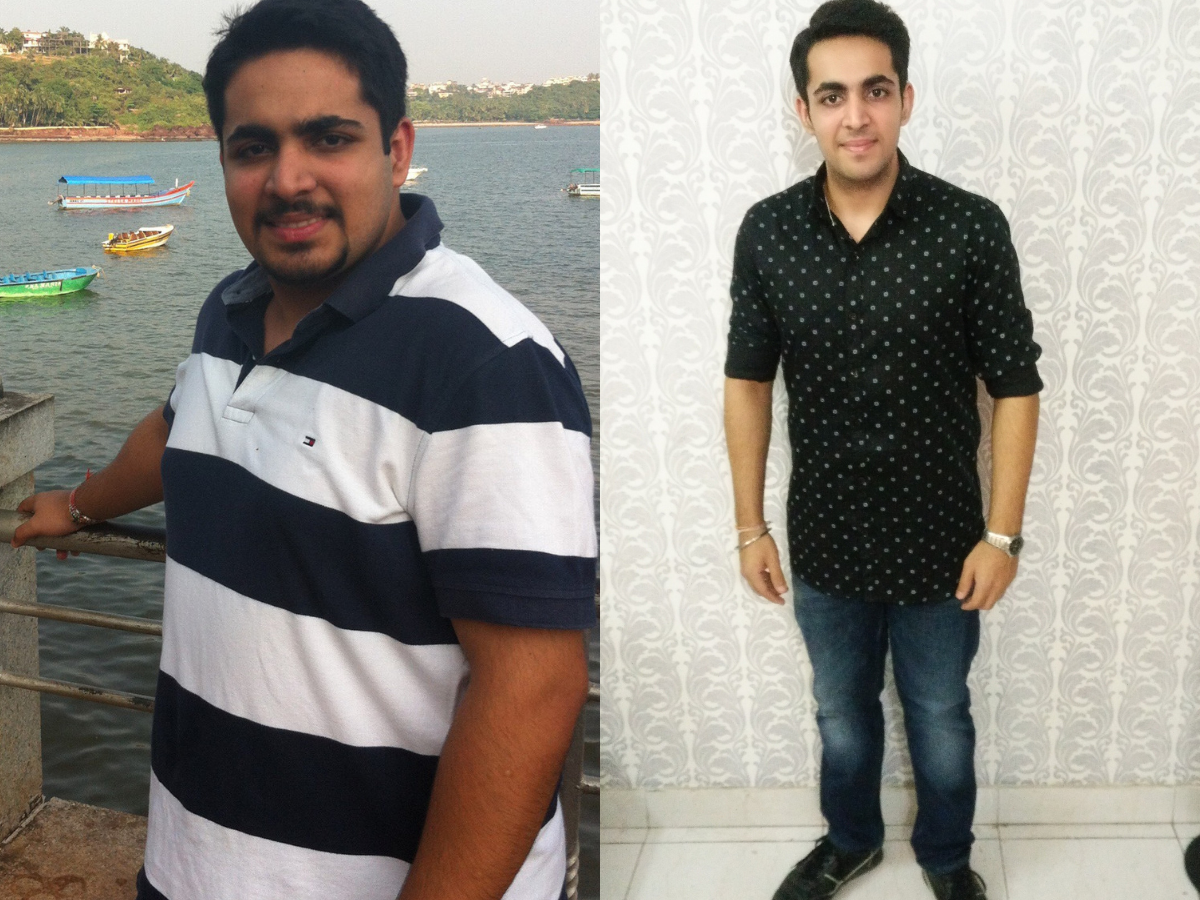 24-year-old Kaartikay Malik weighed a whopping 100 kilos when he decided to take charge of his life and started working out.
His before and after photographs are enough to give hope that anything is possible if you stay dedicated and work hard. Read his weight loss journey to get inspired!
Name: Kaartikay Malik
Occupation: Self-employed
Age: 24 years
Highest weight recorded: 100kgs

Weight lost: 28kgs
Duration it took me to lose weight: 2 years
The turning point: It was during the first year of graduation when I realised that there was something not quite right with the way I was leading my life. I became under confident and started feeling really heavy. This was when I decided to hit the gym and take charge of my life. I was very well aware of the fact that it was only hard work which will get me through this journey.
My breakfast: Scrambled egg and a glass of milk.
My lunch: Daal, some vegetables and 2 chappatis with buttermilk.
My dinner: Eggs, boiled chicken and soup.
I indulge in (What you eat on your cheat days): I love eating delicious Mughlai food and having sweets.

My workout: I workout for at least 6 days a week. Here is my workout routine.
Tuesday- 2km running, back and biceps
Wednesday- 2.5km running and cardio
Thursday- 2km running, chest, shoulder and triceps
Friday- 2km running and legs workout
Saturday- 2km running and circuit or aerobic training
Sunday- 2km running and cardio
Low-calorie recipes I swear by: Scrambled eggs, paneer bhurji and even boiled chicken.

Fitness secrets I unveiled: I have realised that you need to eat in moderation when you are trying to stay fit, healthy or even lose weight.

How do I stay motivated? Make it a point to push yourself to workout for at least a month, since you will definitely see some results and you will be inspired to keep working out. Gradually, yet very evidently, you will feel lighter and your clothes will become loose. I also ensured that I maintain a strict control over my diet.
How do you ensure you don't lose focus? I make sure that I workout for a minimum of 5 days a week in the gym with complete dedication.
What's the most difficult part of being overweight? I started feeling really heavy and was not able to fit into the clothes of my choice. It was a really uncomfortable feeling.

What shape do you see yourself 10 years down the line? I want to become leaner and muscular.

What are the lifestyle changes you made? For starters, I started drinking lots of water. I maintained strict control over my diet and completely avoided processed fruits. I also ensure that I eat a lot of fresh fruits and vegetables.
What was the lowest point for you? I was working out with sheer dedication for almost 6 months, but I did not see any visible changes. I was dejected and heartbroken.
Lessons learnt from weight loss: The whole weight loss journey played a crucial rule in increasing my patience. I also learnt the importance of dedication and hard work.
If you too have a weight loss story to share, send it to us at [email protected]