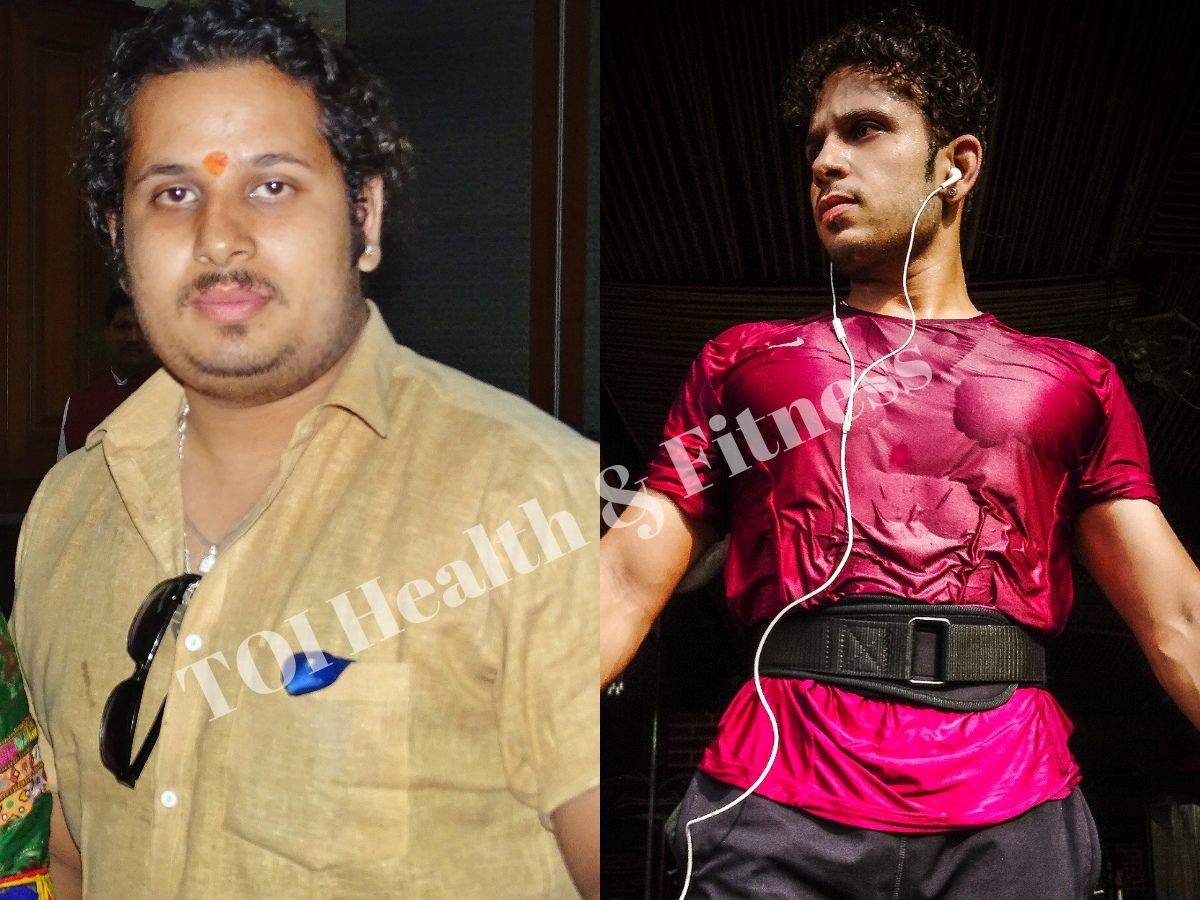 Busy schedules and unhealthy eating habits can put you at risk for obesity and a host of other health problems. 26-year-old Mridul Rajpoot was guilty of the same but he wanted to be just as fit as his brother was. Soon enough, he got into action and lost all the extra weight in a matter of time.
To know how he did it, read his story here:
Name: Mradul Singh Rajpoot
Occupation: Artist and content writer
Age: 26 years old
Height: 170 cm

Highest weight recorded: 92 kilos
Weight lost: 26 kilos
Duration it took me to lose weight: 16 months
The turning point:
At my heaviest, I used to weigh 92 kilos, with a fat accumulation of 38%. I led a bad lifestyle. The real damage happened when I used to work the graveyard shift. My eating habits went from bad to worse. I would stay up all night, binge eat and gorge on poha, samosas, sandwiches, namkeen, and chips. It was like my whole life depended on junk, processed food. My sleeping schedule was disturbed too. This made me gain weight.
But, I have to give credit to my brother for inspiring me. My younger brother, Hitendra used to be very skinny ever since childhood. Post schooling, he transformed his physique and became super fit. Everyone was a fan of his new personality and even I wanted to be like him. That is when I decided to shed the flab and slim down.
My breakfast: I have my breakfast somewhere between 9-10 a.m. I have something healthy, all counted as per macros. Usually, my go-to meal is something like this:
1 banana + eggs (2 whole eggs + 1 egg white) + 60-70 grams oatmeal
I go for a light filling snack, a couple of hours later. Usually, it is a handful of dry fruits (like almonds or raisins).
My lunch: I follow a rigid time schedule. In the afternoon, I have 120 grams of brown rice + 3 cups of green vegetables.
My dinner: 100 grams of sweet potato/chicken + 1 teaspoon of olive oil (in any form) + 3-4 cups of green vegetables.
Junk food is totally out of my life now, I don't even feel the need to munch on that on my cheat days.
Pre-workout meal: I workout in the evenings, so I have a little snack before heading to it. Usually, a slice of brown bread with peanut butter (1 tablespoon) does it for me.
Post-workout meal: 1 scoop of whey protein
My workout: I used to hit the gym for an hour and a half daily for a strength/weight training session followed by a 30-minute cardio routine. Every day, I would practice 5-6 exercises dedicated to each body part with 15,12,12 reps. This is what my workout plan looked like:
Monday: Chest Workout
Tuesday: Shoulder Workout
Wednesday: Back Workout
Thursday: Arms Workout
Friday: Chest and Shoulder Workout
Saturday: Legs Workout
Sunday: Rest Day (No Workout)
Low-calorie recipes I swear by: I did not take any supplements. But for good results, I had to increase my protein intake and reduce calories. So I added whey protein and multivitamins.
Fitness secrets I unveiled: I realised that there is no shortcut to losing weight. Although it was hard, I remained fully dedicated and disciplined throughout my journey.
Earlier, my schedule was so erratic, there wasn't a concept of lunch or dinner. Now, I follow a set pattern, take 5-6 small, frequent meals, drink adequate water. Even on cheat days, I don't skip my workouts to burn those extra calories at rest and keep my body active.

How do I stay motivated? My brother has been by my side throughout, acting as a guiding force. I put up his photos in my room and as my mobile wallpaper. I wanted to be just as fit as him.
How do you ensure you don't lose focus? I strongly believe in courage, passion, and stubbornness. These three attributes led me to my final goal.

What's the most difficult part of being overweight? I was low on self-confidence. My clothes didn't fit me at all. I shifted to wearing 3XL size clothes. Besides, I gained a potbelly that restricted me from wearing t-shirts.
What shape do you see yourself 10 years down the line? While I do want to sport muscles, I do not want to have a bodybuilder's physique. I want to remain in a shape wherein I am able to run, do heavy workouts, which would help me maintain a trimmed, chiseled shape.
What are the lifestyle changes you made? The first thing I did was to control my calorie intake not by dieting but substituting junk food from my meals with macros (macronutrients – fat, protein, and carbohydrates) from solid food. I kept changing or rather updating my diet every 45 days, which aided further weight loss.
What was the lowest point for you? Because of my erratic lifestyle and poor eating habits, my body weight kept tipping towards the heavier end of the weighing scale. It shattered my self-confidence. That's when I decided to take control of the situation and shifted my focus towards being fit.
Lessons learnt from weight loss: I learned that being fit is the only key you need to lead a healthy and happy life. I was also able to let go of the fear of getting mocked for my looks. Now I feel more flexible and there is new-found freedom in the way my body feels now.
If you have a weight loss story to share, send it to us at [email protected]