Social media is a great way for fans to connect and bond with their favourite celebrities online but it also comes with a price tag. It is very easy to judge and criticise people for what they do and what they don't do and celebrity parents know this very well. In the past, reality TV star Kim Kardashian West faced criticism for threading her daughter, North West's eyebrows at a very young age. Closer home, actor Shahid Kapoor's wife Mira Rajput got judged online for letting her daughter colour her hair recently.
Shahid and Mira, who are parents to two under two kids, Misha and Zain, keep sharing pictures and snippets from their everyday life and have been setting goals for new parents. Mira, for one, a full-time stay at home mother keeps sharing whereabouts of the tiny tots who are highly adored on social media. Mira is often praised for keeping it real but she was criticised by people.
Mira often spends time with daughter Misha, taking her out for playdates, fun activities and even shopping. She recently look her little one to a celebrity salon for a pamper session and shared stories on her Instagram account. Misha, who is also called 'Missy' by the parents was naturally very excited to have her hair coloured in different colours and smiled through the photos. Mira even added that she isn't a regular mom but a 'cool mom'. But, this wasn't received well by other parents and fans over the internet who judged her and left comments questioning the mother about letting her daughter do something like this at a young age.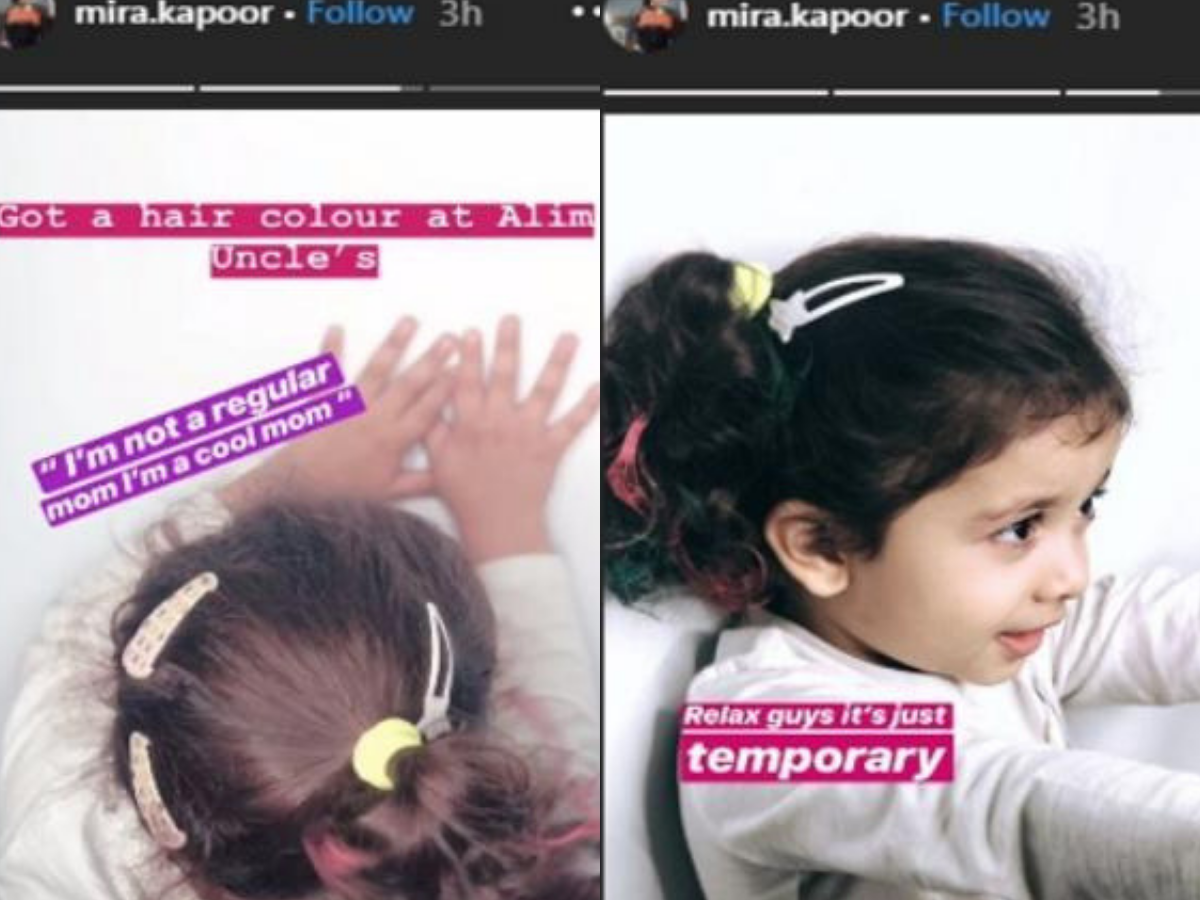 After being judged online, Mira replied back and clarified that the colour was just temporary and said she was a responsible parent. She added,
"Relax guys it's just temporary. Wait till I'm 5."
Earlier too, Mira has been on the receiving end of trolling on the internet. Back in 2017, a few months after giving birth to Misha, her first born, she was asked about her career plans on a panel. In the interview, she said that she cannot imagine leaving her child at home as she is not a "puppy". People criticised her for making a juvenile comment and taking pot-shots at working mothers, who then wrote open letters ridiculing Mira's irresponsible remarks.
Mira Rajput, all of 24 is no less than a celebrity herself. She has 1.5 million followers on social media and recently conducted an 'Ask me Anything' for her fans. People asked her a lot of questions, also the ones about how she parents her two kids. When somebody asked her how she prepared Misha before Zain's arrival, she replied, "We make Misha feel like a "grown-up little helper". Her answer reads, "We spoke to her about it a lot. Read a lot of storybooks to her (Topsy and Tim and the New Baby became a favourite of hers) And let her feel a part of the process even till now! Help around, bring mom a glass of water or sing wheels on the bus to Zain if he's crying. We let her feel the baby is hers to take care of so she felt like a grown-up little helper."
She also said that giving birth the second time around has been way easier, commenting that she is a relaxed mother now.