28-year-old Neha Mahajan was well-versed with the side-effects of being overweight, but it was only when her doctors recommended her to get a surgery that she decided enough was enough. Since then she has come a long way, from launching her own brand to modelling, she is a living, breathing example that anything is possible once you pursue it with all your heart.
Name: Neha Mahajan
Occupation: Learning and development specialist
Age: 28 years
Highest weight recorded: 110 kgs
Weight lost: 45 kgs
Duration it took me to lose weight: 18 months

The turning point: I had fallen really sick due to the cervical issue in my neck. The pain was so severe that I started getting attacks almost 2-3 times a week. The situation became so worse that the doctors advised surgery to cure it. That was the moment when I became so scared that I decided to turn my life around by losing weight. I decided to jump straight on the fitness bandwagon. When I started seeing the results for myself, there was no looking back.

My breakfast: For my first meal of the day, I love having cornflakes with milk, 4-5 egg whites with either one cup of coffee or tea.
My lunch: 2 wheat bran chapatis, a bowl of curd and some green vegetables.
My dinner: My dinner is usually carbs free and consists of boiled/grilled chicken, boiled chickpeas and home-made daal and some vegetables.
I indulge in: I absolutely love gorging on Tiramisu pastries and pasta.
My workout: I go to the gym at least 4 times a week. My workout regime consists of cardio plus a mix of weights. On the days, I can't hit the gym I make sure that I go to a park to walk.
Low-calorie recipes I swear by: Poha, upma, oats, boiled chicken, and scrambled eggs
Fitness secrets I unveiled: I figured out that losing weight is not directly proportional to inch loss. They are two separate things. You can lose a lot of weight without losing enough inches. Hence, it is important to understand your body's requirement and figure the best combination of workout and diet that suits your body type.
How do I stay motivated? I love to pamper myself and look good and this makes me feel super confident. I have seen a significant improvement over years in my health, confidence and overall approach towards life by opting for good health. Also, I have modeled for a few fashion brands, which makes me really confident about myself.
How do you ensure you don't lose focus? It all boils down to consistency and eating right. Staying healthy has become a very important aspect of my life and being showered with compliments obviously plays a huge role too in keeping the motivation level high.
What's the most difficult part of being overweight? Constantly falling sick and low self-esteem was literally the worst part of being overweight.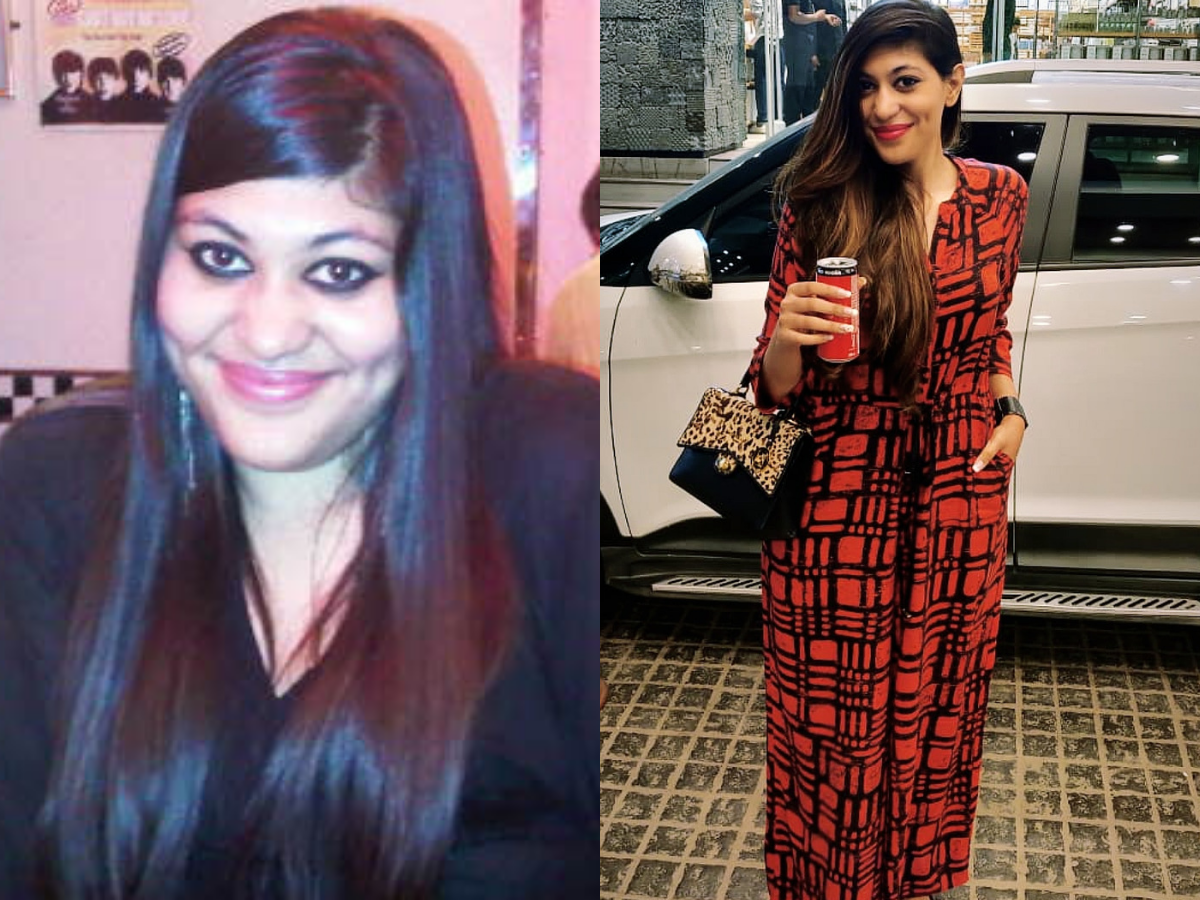 What shape do you see yourself 10 years down the line? I want to be fitter, healthier and happier.
What are the lifestyle changes you made? I have completely changed my life around as maintaining the current weight requires a lot of dedication. I have switched from hard drinks to wine, cut down junk food and completely stopped binge eating. I also make it a point to exercise at least 3 times a week. As of now, I eat in small portions every 3 to 4 hours to maintain a good metabolism.
To help others get healthier, I started my own brand in 2016. All everyone needs at the end of the day is some motivation, right guidance and the willpower to stay healthy. I feel really good when I help anyone to get on the fitness path.
What was the lowest point for you? The lowest part undoubtedly remains the incident when my ex-boyfriend refused to get a picture clicked with me because I was fat. In addition to this, since, I am taller than the average Indian girl, being overweight made me look gigantic and scary.
Lessons learnt from weight loss: Good health would lead to a happier version of yourself and eventually lead to better relationships.
If you have a weight loss story to share with us, send it to us at [email protected]