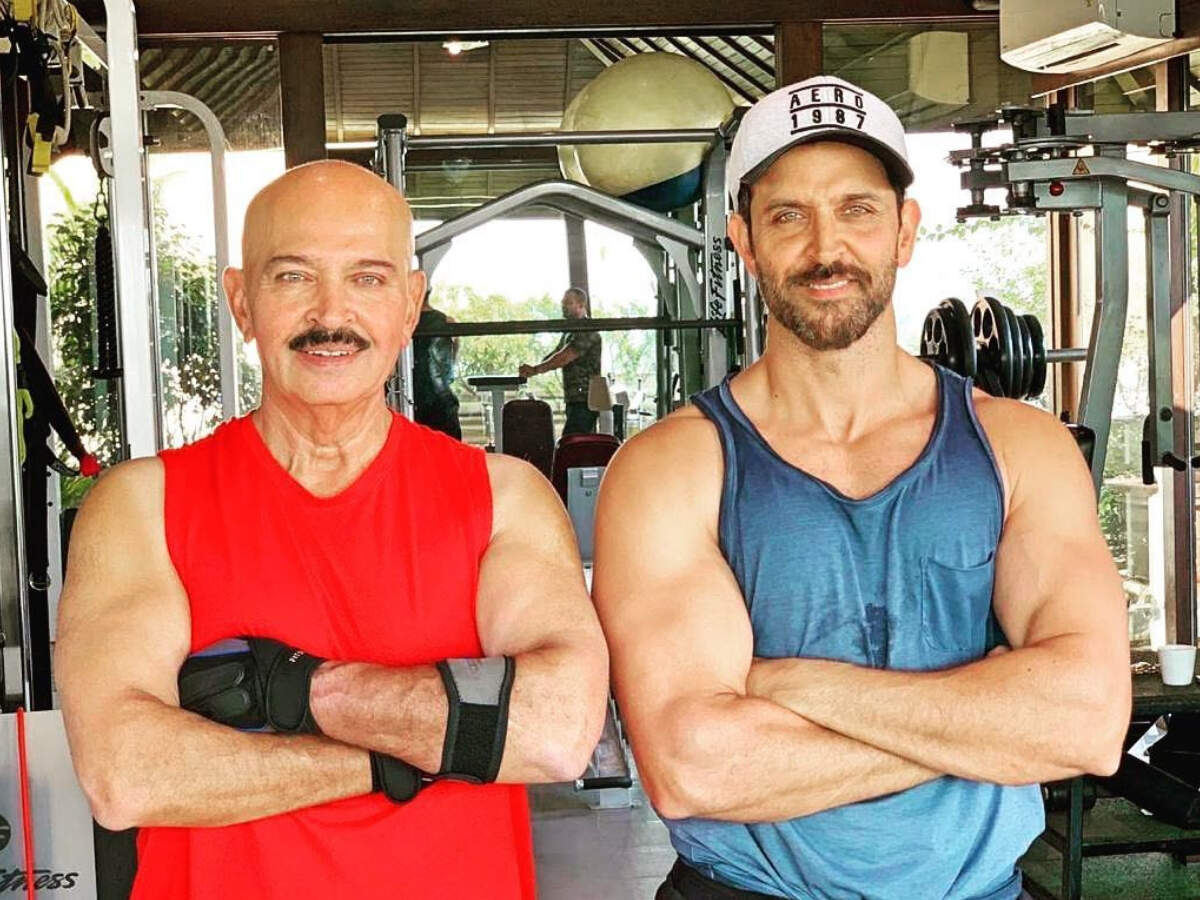 Actor Hrithik Roshan who will be seen next in the film Super 30 shared an emotional post on Instagram talking about his dad Rakesh Roshan's scary health diagnosis. Early morning, Hrithik shared the news that Rakesh Roshan has been diagnosed with early-stage squamous cell carcinoma of the throat and he was undergoing a surgery to treat cancer. The actor also added that despite receiving a diagnosis as scary and big as this, Rakesh Roshan was still concentrating on remaining positive and at his fittest best. He did not miss the gym even on the day of the surgery. He is scheduled to undergo the surgery today (January 08). Hrithik shared this photo and added,
"Asked my dad for a picture this morning. Knew he wouldn't miss gym on surgery day. He is probably the strongest man I know. Got diagnosed with early-stage squamous cell carcinoma of the throat a few weeks ago, but he is in full spirits today as he proceeds to battle it. As a family, we are fortunate and blessed to have a leader like him. .
Love you Dad."
The comments section on the post was soon flooded with well wishes and blessings from fans and celebs alike. Rakesh Roshan is set to direct the next part of the franchise, Krrish 4 soon.
What is squamous cell carcinoma of the throat?
Throat cancer leads to the formation of multiple lymph nodes and abnormal cells along the lining of the neck and throat area. While this type of cancer is not commonly known in India, it usually occurs with the increasing age and is most commonly diagnosed in older males over the age of 55. Alcohol consumption, tobacco usage and exposure to chemicals are pointed out as the leading cause of this type of cancer.
Does early diagnosis help?
Usually, the first signs of throat cancer are abnormal liver function and anemia. However, early diagnosis helps in fighting the disease better and the survival rates are also better. Patients are usually treated with a combination of radiotherapy or chemotherapy as well as medicines to target the malignant cells.