Author and filmmaker Tahira Kashyap, Ayushmann Khurrana's wife is an inspiration. In the past year, she has been through a lot. From receiving a scary breast cancer diagnosis to the news of its relapse and chemotherapy sessions, Tahira Kashyap has put up a brave face (and a smile) all through her struggles and has proved to be an example.
Tahira, who shared the news of being diagnosed with stage zero breast cancer in September 2018 underwent surgery and multiple rounds of chemotherapy to beat cancer. On September 14, which also happened to be Ayushmann's birthday, it was revealed that Tahira had been diagnosed with pre-invasive cancer or ductal carcinoma (DCIS) in her right breast. She also got a mastectomy done to remove the malignant part. Sharing the journey on Instagram, Tahira said,
"I was detected with DCIS (ductal carcinoma in situ) in my right breast with high-grade malignant cells. Simply put stage 0 cancer/ pre-cancerous stage, with cancer cells multiplying in a contained area. The result I have become a half Indian version of Angelina Jolie (since only one breast was involved)! I told my doctor now is the time to give some competition to the Kardashians since Pamela is passé."
She also added that the diagnosis, no doubt scary had taught her a lot about life and endurance. She also raised awareness, asking women all around to consider her diagnosis as a wake-up call. She added,
"But no one listened to me, so now I have a portion of my back tissue in my breast. Perhaps now I can do chin-ups with my breasts! Jokes apart, this obstacle has given me a new definition of life. Respect it's unpredictability and have the faith and courage to be the hero of your own drama of life. The invincible human spirit is God-like, gives you the courage to endure and the will to revive. There is nothing that human spirit can't do."
"I want women of all ages to be aware. I am 35, and I was returned twice over from a mammogram. If any symptoms come up, think of it as a protective force and get yourselves examined. Also, we are so obsessed with boobs. This mastectomy has left me with even more self-love! Big, small, left or right inclined, gravity pulling or defying, or even none, each breast the presence or lack of it has a story to tell. Mine has made me a 2.0 version of myself! This post is dedicated to awareness, self-love and resilience of a warrior that I know each one of us possesses❤️ #breastcancerawareness #selflove #determination #faith #bodhisattva #bodhisattvaoftheearth.
However, that was not the end of her struggles. Later, she also shared the news that cancer had now reached stage 1 but still managed to not let her hopes down.
And now, there is good news and joy after all. Tahira revealed that she is done with her last chemotherapy sessions. In a series of videos, Tahira can be literally seen jumping with joy.
She also shared a picture, thanking the hospital nurses and doctors who treated her and provided her with the help she needed.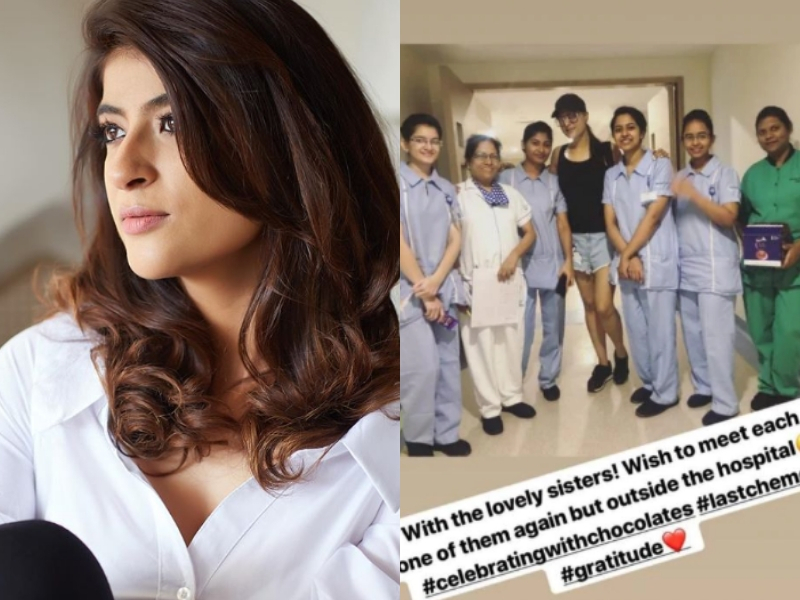 Ayushmann, her husband has been a constant force of support right by her side. He even fasted for her during Karva Chauth to pray for her good health and well-being. In fact, calling the prognosis a life lesson, Ayushmann and Tahira's brave approach can be a learning lesson for many to sail through the tough times. In an interview, Ayushmann said,
" We (Tahira and Ayushmann) had to maintain a happy life to deal with the big C in the most unique way. We can't cry about it. I think I have started looking at life in a different way altogether. I have become more patient as a person. Small things don't bother me anymore. We are so lucky to have received the diagnosis at an early stage and that's a silver lining. We decided to stay positive all throughout and that has helped, despite the tough days sometimes."
Not long ago, just like Tahira Kashyap, popular actress Sonali Bendre, who too had been diagnosed with cancer in early 2018 shared the news of the end of her chemotherapy sessions for which she had to stay back in New York. She returned to her home in Mumbai just recently.