Society can be very cruel to you if you do not confine to its norms and it is especially cruel to those who are overweight. 23-year-old Megha Pritmani suffered from taunts and jibes from all her relatives and friends throughout her school and college days.
In addition to being overweight, she was also battling PCOD, which made her weight loss journey, even more difficult. Read on to know her fat to fit journey and change your life for the better!
Name: Megha Pritmani

Occupation: Student
Age: 23 years
Highest weight recorded: 110 kgs
Weight lost: 52 kgs
Duration it took me to lose weight: 1.5 years

The turning point: When I was overweight, I did not have any friends and it was really heartbreaking. People used to make fun of me because of all the excess weight. The sad part was, even my cousins and relatives used to make jokes at my expense. So, during the whole school time and college days, I was really under confident. I was also diagnosed with PCOD (Polycystic Ovary Disease) which made losing weight an even more difficult task. Fed up with my physical condition and mental health, I took it as a challenge to lose weight.
My breakfast: Muesli and one cup of milk
My lunch: 2 chapatis and some vegetables or a bowl of daal and some rice
My dinner: 2 chapatis and some vegetables or a bowl of daal and some rice

I indulge in (What you eat on your cheat days): Unlike the commonly known concept of cheat days, I do not believe in eating throughout the day. Rather, I only have my favourite dish which is chilly chicken and fried rice.
My workout: I do a combination of cardio and weight training for each body part, every day and do 10-15 mins of cardio.
Low-calorie recipes I swear by: Egg white omelette made in butter and spinach smoothie.
Fitness secrets I unveiled: I have realised that to stay on the path of fitness, you need to stay motivated and have a tremendous amount of faith in yourself.
How do I stay motivated? I always look back at my old photographs, whenever I feel that I am losing motivation. I get inspired by seeing how far I've come and what all I have achieved, hence, I get back on track to fulfill my current goal.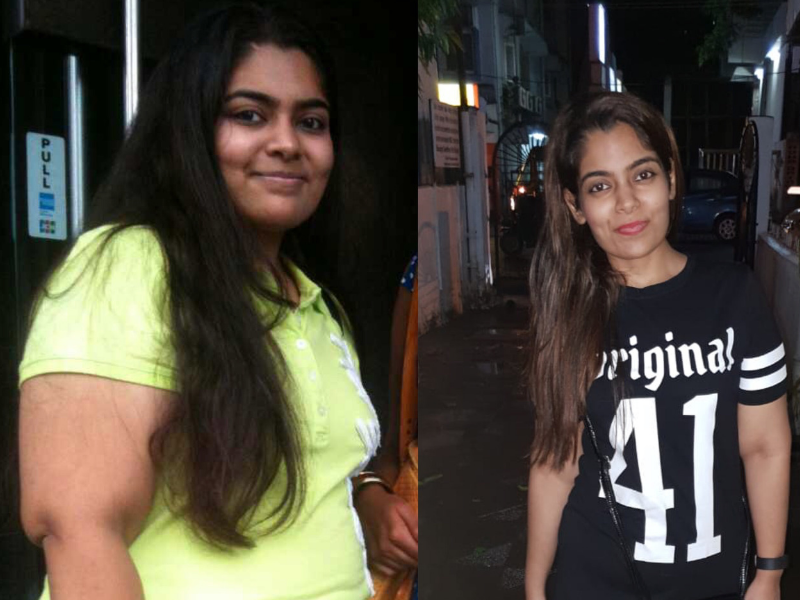 How do you ensure you don't lose focus? I strongly believe in the saying that motivation is like taking bath, you need to do it every day. So, I motivate myself every day to go further.
What's the most difficult part of being overweight? It is really painful and heartbreaking when people laugh at you and make you the centre of all the jokes. It hurts, even more, when it is your own family doing it. My excess weight made me feel really left out with zero involvement anywhere.
What shape do you see yourself 10 years down the line? I want to stay fit and maintain my current physique. I don't want to go back to my old shape.
What are the lifestyle changes you made? In order to lose weight, I completely changed my lifestyle. Earlier, I used to eat whatever I felt like without any control over my taste buds. But now, I count my calories and know the importance of a healthy lifestyle.
What was the lowest point for you? Even after working really hard, I was stuck at a weight loss plateau! This is when I realised the importance of constantly changing workout routine as our body is very smart and adapts to the routine. I took up swimming in addition to my workouts and could immediately see the difference.
Lessons learnt from weight loss: I learnt that a healthy lifestyle is crucial to living a happy life.
If you too have a weight loss story to share, send it to us at [email protected]