Obesity often brings along several health risks and 25-year-old Archita Chaplot knew it all too well. From being diagnosed with a kidney stone to being unable to take care of herself, Archita was determined to lose weight for good. To know the diet and workout she followed, read her transformation story here:

Name: Archita Chaplot
Occupation: Application Development Analyst, Fitness Motivator and Tarot Card Reader
Age: 25 years
Height: 155 cm
City: Mumbai
Highest weight recorded: 110 kilos
Weight lost: 50 kilos
Duration it took me to lose weight: 8 months
The turning point: I was always a heavy person… I had accepted myself for the way I looked, not caring about what others had to say.I had a bad lifestyle- junk food obsession, erratic work hours and enjoyed life!
One fine day, I had to be rushed to the hospital because of a painful kidney stone. When they weighed me there, I was shocked to see the number read 110 kilos! I couldn't do anything myself during my hospital stay. I remember I had to ask my mom to fly down to take care of me. It hit me then that I had become too heavy.
Later, a friend of mine, sharing the same weight concerns as I requested me to accompany her to the office gym every day. I gave it a shot and never gave up on the journey.
My breakfast: I have a very small breakfast but it satiates me. Usually, something like a bowl of fruits or pan-seared tofu (50 grams).
My lunch: I have some green vegetables, sprouts or daal with 1 chapati (made of multigrain flour), along with a big bowl of yoghurt.

My dinner: I keep dinners fresh and light. Something like seasonal fruits, pan-seared veggies (uses very less oil) or soup does it for me. However, when it's a cheat day, I give into my cravings! Cheesy garlic bread, parathas or any kind of chaat- they are my favourites.
Pre-workout meal: 6 soaked almonds along with a cup of black coffee/green coffee.
Post- workout meal: Coconut Water and Protein Shake
My workout: I work out 6 days a week which includes 15 minutes of Cardio, followed by an hour of muscle weight training, stretching and another 10 minutes of Cardio. I also do yoga for an hour and ensure that I walk at least 10000 steps a day.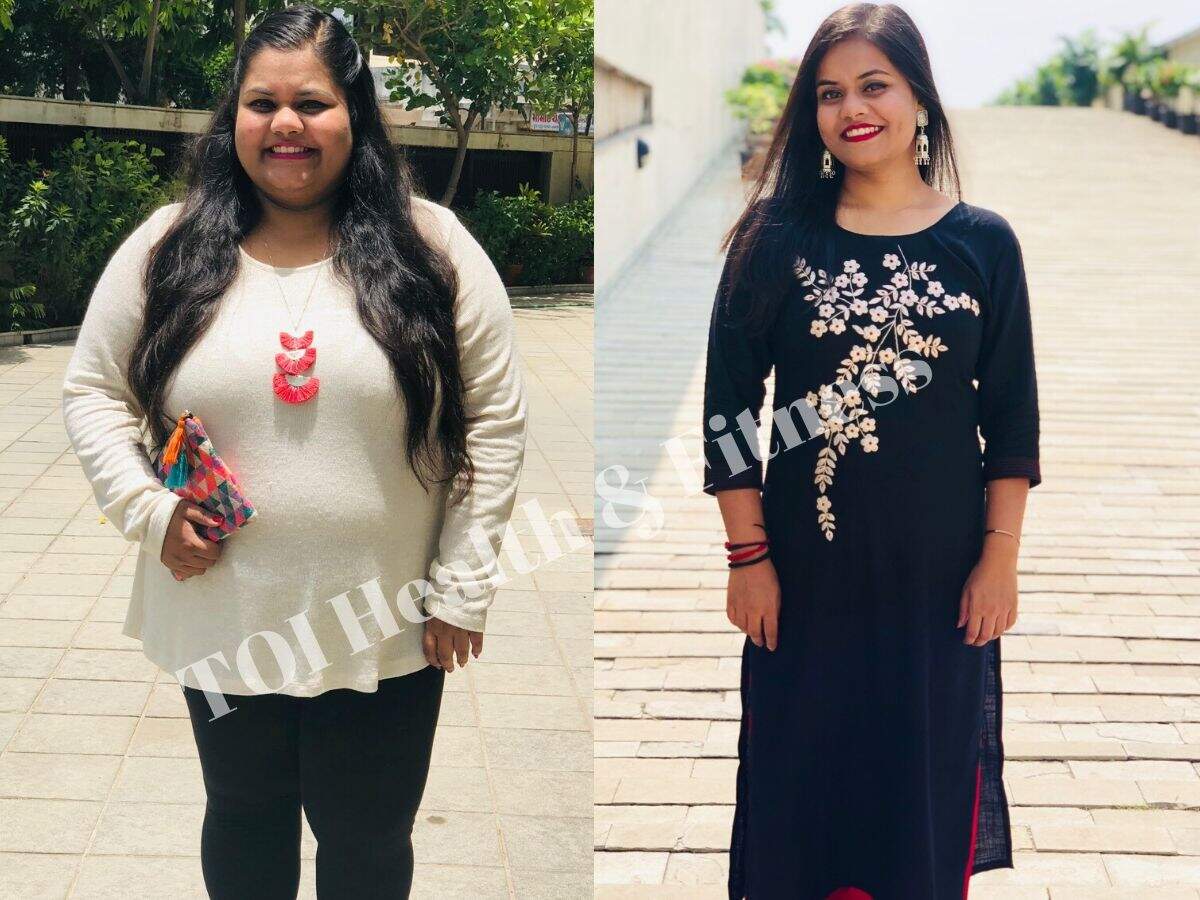 Low-calorie recipes I swear by: I believe that any meal can be cooked deliciously while keeping it low calorie simply by ensuring that it's homemade.This meal prepping plan ensures that you keep a count on the quantity and the calorie consumption too. For those looking to lose weight like me, I would suggest them to have healthy preparations like vegetable cheela, sprouted salads and sauté veggies.

Fitness secrets I unveiled: Weight loss was no doubt, difficult at first but I realized with time that exercise and diet go hand in hand. You need to ensure that you eat the right nutrition, right portions and at right intervals. I made monthly goals and customized diet plans for myself. This helped me understand the needs of my body and I experimented along the way.The kind of confidence, mental and physical strength, peace and happiness I discovered during this transformation was priceless. I wasn't aware that I was capable of so much more. I realized how energetic and active I started to feel after imbibing fitness in my daily routine. Every day started to feel like a new day to me.
How do I stay motivated? All through the journey, the end results kept me going. It was exciting to try something new each day. I started making short term goals and celebrated each accomplishment throughout the journey. I was completely self-motivated and I could see results at every step. I could see myself dropping by a dress size every month and this made me so happy! By the end of the timeline, I was down from 4XL to XS.
How do you ensure you don't lose focus? Once you see the desired results, there is no going back. You start to see and feel the progress along the way. Also, every 2 months I would buy a dress that would be two sizes smaller than my current size. I used to consider it as a target and wear it when I would have achieved that kind of inch loss. I could never imagine myself in body-hugging dresses then. I own tens of them now!

What's the most difficult part of being overweight? As an overweight person, you tend to carry a lot of mental and emotional insecurities. Even if you are confident about certain things in life, you tend to subconsciously miss onto a lot of other opportunities because of that. You do not even realize that you yourself create so many restrictions in your mind. As a small example, whenever I would be carpooling in a cab or going out with friends, I would take the front seat thinking that I would occupy maximum space so let me just sit in front.
What shape do you see yourself 10 years down the line? I would like to stay in a fit and toned shape throughout my life. I did not know I would end up inspiring so many people! People spam me with messages now!
What are the lifestyle changes you made? I have made a disciplined schedule for myself. I start my day at 6 am now with a proper yoga and exercise routine in place. My food habits have totally changed. I never ate green vegetables before. But I enjoy eating everything now. I learnt how to cook so that I could watch my calories and nutrition. I pre-plan my meals for the day and carry my meal boxes where ever I go. I ensure that I give enough rest to myself and sleep on time. I have started to prioritize my own needs above other things.

What was the lowest point for you? I had lost 30 Kgs by the end of 2018 but I was still targeting more. Two weeks later, I started to notice that my weight was not going down anymore. I still had a lot more to reach. Then I tried the GM diet too, believing the internet but that didn't work for me too. People started to tell me that I was looking very weak and dull. That was one of the lowest points during this journey.
Lessons learnt from weight loss: I have realized during this journey that you can achieve anything if you put your thoughts and actions into it. Your body should always be your first priority. You should listen to it and understand your needs.
When you start to notice and take care of yourselves, you discover so much more positive about yourselves that you never realize you had within you before. You feel totally confident when people start to notice you, appreciate and acknowledge your efforts. I have two mantras in life:
1. Everyday is a new day.
2. Dream, Believe, Achieve and Inspire
If you have a weight loss story to share, send it to us at [email protected]